ROLE OF HYDROGEN PEROXIDE IN THE MECHANISM OF CHRONIC HYPOXIC PULMONARY HYPERTENSION
---


HYDROGEN PEROXIDE PRODUCES PULMONARY VASOCONSTRICTION IN ISOLATED SALINE PERFUSED RAT LUNGS.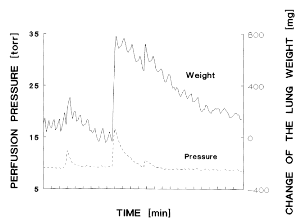 Arterial bolus injection of 7 mM of H2O2 in the preparation of isolated saline perfused rats lungs.
---
THE VASOCONSTRICTION BY HYDROGEN PEROXIDE IN RATS EXPOSED FOR 3 DAYS TO CHRONIC HYPOXIA IS INCREASED.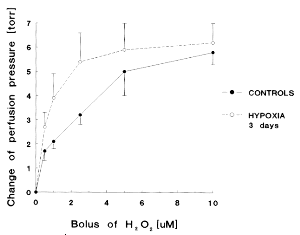 Dose pressor response to arterial bolus injections of H2O2 in the preparations of saline perrfused lungs isolated from control rats and rats exposed for 3 days to chronic hypoxia ( FIO2 = 0.1)
---
ALVEOLAR MACROPHAGES ISOLATED FROM BRONCHOALVEOLAR LAVAGE OF RATS EXPOSED FOR 3 DAYS OF HYPOXIA ( FIO2 = 0.1) PRODUCE MORE H2O2 WHEN STIMULATED. AFTER 3 WEEKS OF HYPOXIA THE PRODUCTION OF H2O2 IS NORMAL.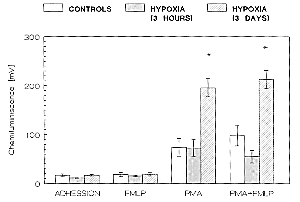 Production of H2O2 was measured by luminol-dependent chemiluminescence FMLP = N-formyl-methionyl-leucyl-phenylalanine PMA = phorbol-myristate-acetate
---